We all capture the BIG stuff that happens in our lives like birthdays and first dances. I get the privilege of seeing clients 1 or 2 times per year for the extra pretty, wall-worthy portraits, but what about the everyday mismatched socks your preschooler insists on wearing? The afternoon your teenage son puts your toddler on his lap and reads her a story? The piggyback ride your husband gives everyone at once? Those small, tender, heart-warming moments are just as important as the big ones.
In my FREE Capturing The Heart of Everyday course you'll receive 10 PDF lessons designed with busy mom's in mind who want to be sure and document the everyday moments that make up the story of their life. It can be done with a phone camera, point & shoot or DSLR. The lessons will get you clicking with learning concepts, inspiration ideas and tips you can use to make it easy to document these fleeting moments.
What this course IS:
1 lesson per week for 10 weeks to get you thinking about and capturing your everyday family story
Simple easy to read PDF's that take less than 5 minutes to read and less than 10 to implement
Print them or read them digitally on the go-whatever's easy for you
No pressure! Save them and read them all at once or keep up with us weekly and learn as you go-it's up to you!
Join the Facebook group for help and more inspiration PLUS giveaways, tutorials and access to me!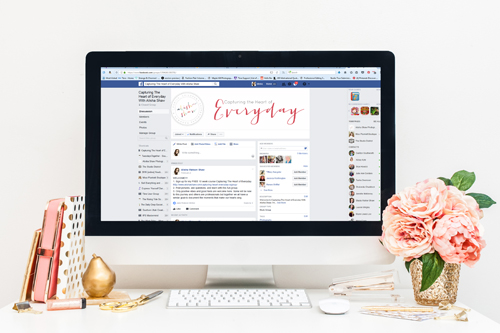 What this course IS NOT:
It does not teach you the technical aspects of using your camera. I would love to have you attend my Simply Photography workshop for DSLR users if you want to learn how to shoot in manual mode, edit in Lightroom and really LOVE your camera.
It's not a pressure course where someone is watching over your shoulder making you do things-it's up to you with all the help and support you need
So join me as we notice the small and meaningful moments that make up our everydays and nights! Hugs!
CAPTURING THE HEART OF EVERYDAY
Save