I want the pictures you receive to reflect your family, your style, & your taste and so I often ask people what exactly they are looking for in their pictures and the most common answer is "I dunno!" LOL
But what's so funny is that they usually do know, they just need some direction in pin pointing it. So I've made a little list to help you so we are both on the same page and your vision is my vision. Southern Utah is great because we have a wide range of choices when it comes to session style. I will send you a session questionnaire so I can help create just the right session for you.

Coordinate but don't match
You will love a photo so much more if it has depth to it with color and texture. If everyone is in the same white shirt, you lose any definition between people and it ends up looking very flat. You'll want to choose a coordinating color palette and then build everyone's outfit from that palette with a little leeway for their personal style.
First,choose a style for your photo: do you want casual, dressy, trendy casual, minimal, over the top, etc
Then, choose a neutral color or two:
Neutral colors help to "ground" your photo and give the gentlemen something to wear. Heehee (you know your husband will choose the simplest and most boring color option available to him, right?)
Next, find your accent clothing item. I find it easiest to start with the youngest member of your group. It's often tough to find very small children's clothing in a certain color to match an adult, so if you start with them, you're good to go! Especially if you have a young girl, where there are lots of patterns and colors in her outfit.
Here is a great example of a coordinated family: The daughter on the far left is the common denominator-then everyone else is built around her outfit.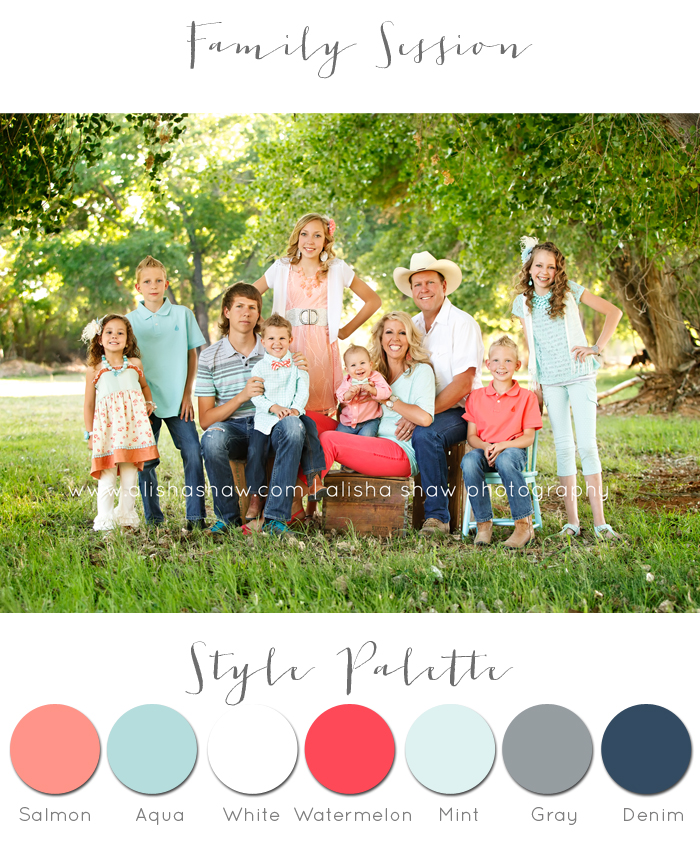 You'll see variations on these colors throughout the picture which ads depth to it. Notice the different textures and layers that add interest to the outfits. And even dad got to be himself.
This family choose a handful of colors and just coordinated everyone to them. Again, you'll see the different shades within the palette and textures that let everyone be themselves.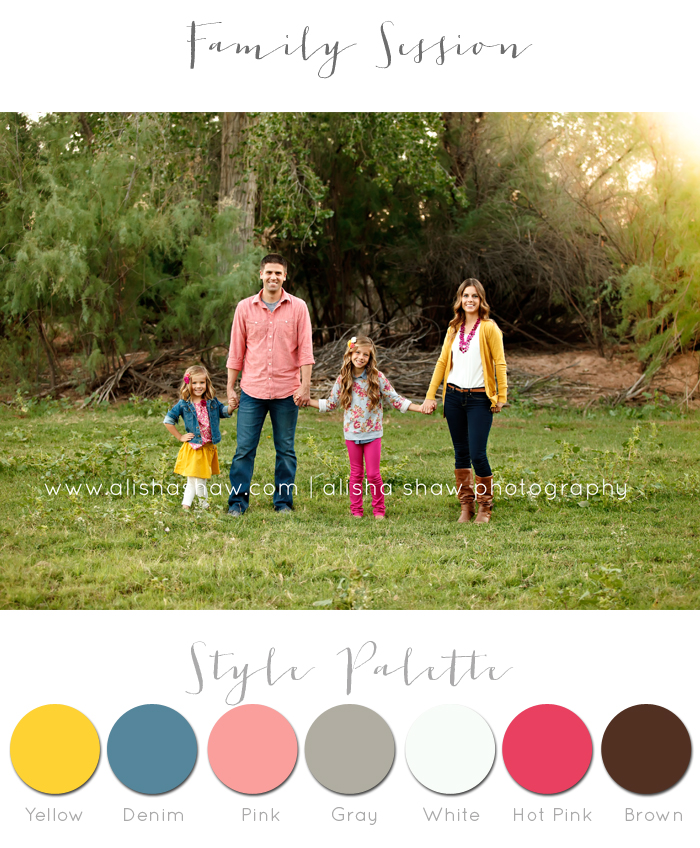 These rules work for small families, extended families and basically any group.
Things to think about when you are using colors…. What is the purpose of your photographs? This will help you decide on a color palette.
If it's to hang in your home, then look at your HOMES color palette and decide if you want to match or coordinate with that.
If it's for holiday cards, consider the colors of your design and coordinate with that.
Some locations lend themselves to certain colors so if location is the most important, coordinate for it.

Which one fits you best?
Southern Utah has amazing variety when it comes to locations. Look through this list and then pick what suits your family best.

Classic/Traditional
gardens with trees and flowers
golf courses
parks
Rustic
old barns
fields
hillsides
Historic
Brigham Young Home
Opera House
Temple grounds
Urban
trendy style with lots of random elements
behind old buildings
city streets
alleys
Red Rock*
Southern Utah is famous for its unique red hills
Dixie Rock
Red Cliffs
Snow Canyon
Zion National Park
*Little color note about Red Rock locations… your color palette must be chosen carefully as red, orange, coral and hot pink act like camouflage in front of the red rocks. Better to stick with blue, green, purple, gray, navy, black, white, and ivory colors so you stand out. Look through my images tagged Red Rock to see examples.
Many locations require advance permission or fees to be paid. If you have a spot you'd like to go, let me know when you book so I can make those arrangements.

Clean & Simple or Deep & Dramatic
You'll be sent a newborn questionnaire when you book with me so I know your style. Since we are working in studio, we can create a look that fits you best. These styles are not limited by gender. A sweet baby girl can be placed in dark baskets with rich colors like plum and mossy green. On the other hand, a sweet newborn boy can be just as handsome on a light blue blanket or plain white with a gray knit cap.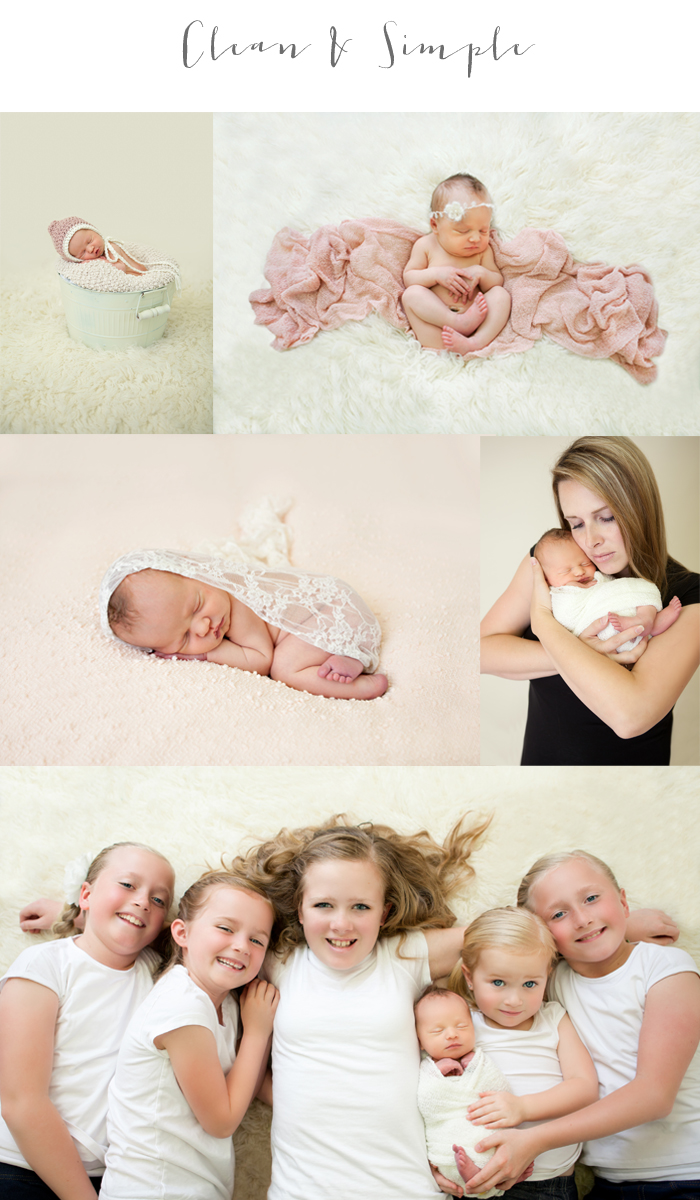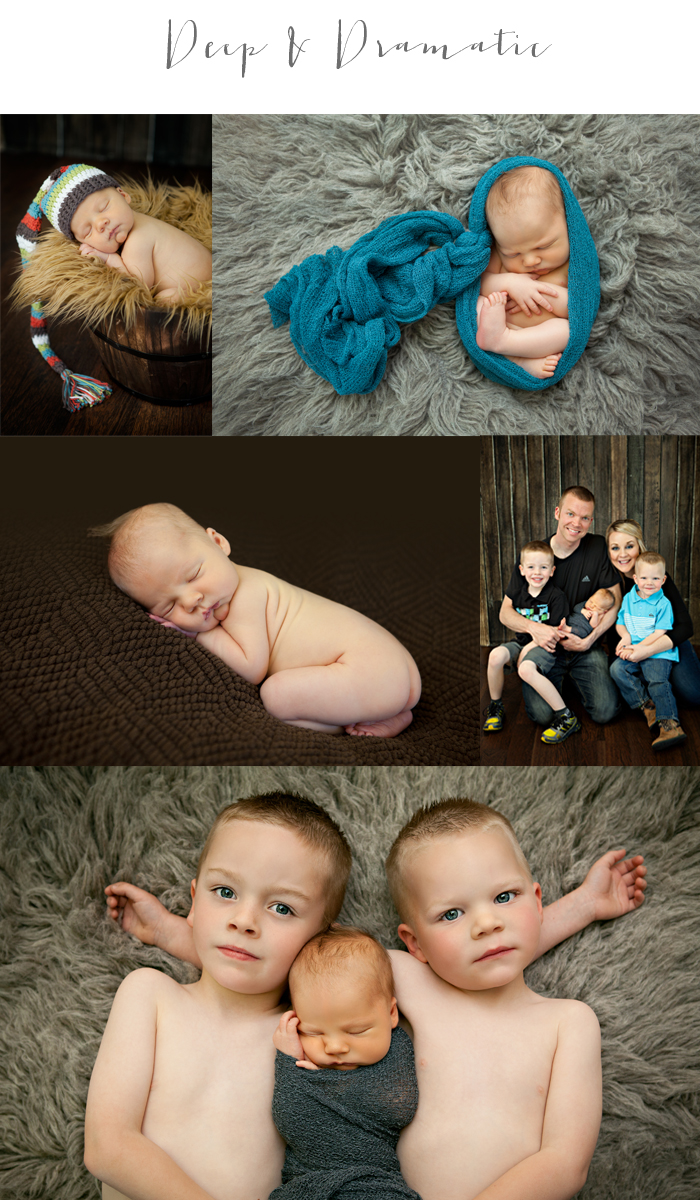 Again, look at the babies room, your home or just your personal color preference. I also love any family heirlooms you want to bring to make the session special to you.

Personality is what really counts
First birthday pictures, yearly school pictures, or a favorite things session are all about the child. Style it according to their little personalities. If you have a very shy, quiet child, a studio session in soft colors might be just what they will respond to. Putting them in a junk yard with bright colored cars probably won't yield the results you want. If your daughter is a tomboy, buying her a frilly, lacey dress with feather headband is a sure ticket to meltdown. If you take a little time to think about the purpose of the pictures and what fits your child, we are sure to get just what we want.